ID Division
We are equipped with follow-up system, specially designed for the community-based drugstores.

OHKI has an original customer follow-up system, which can support from management to day-to- day operations of the community-based drugstores and pharmacies.
Not only medicines, but also cosmeticd, health foods, daily necessities, etc., we offer broad lines of products with quality purchasing conditiond.
With this follow-up system, we provide proposals for easy ordering system and useful information for developing the selling area to support the management of locally ownedstores efficently.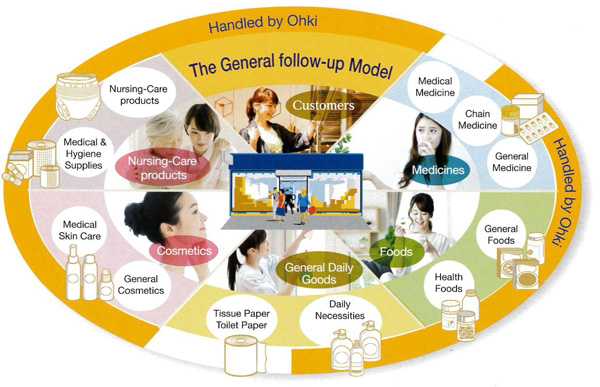 Privileges of "OHKI Pertial Meeting" (voluntary chain)
To provide wide support for the locally owned stores.
"OHKI Partial Meeting" for all the partneres of OHKI.

Delivery of market information
"Offer useful market information periodically"

Lastest information, useful for selling area arrangements and sales activitied, will be delivered 1 to 2 times at the beginning of every month.
Perfect Delivery
"Delivery within the next day"

By making purchase order by the specified time of a day before via OHKI-NET, the ordered products will be delivered within the next day.
To prevent ordering failures, you can pre-set the ideal delivery date beforehand.
We also provide supporting system for reducing the delivery codt.
Dual information system for mobile terminal device,
"BENSUM(BMS Distribution)", for locally owned store,

We provide free load service of dual information system "BENSUM" for the locally owned drugstores and pharmcies to support ordering and obtaining information. It is easy to operate by using the touch panel method. "BENSUM" enables speedy orders, past orderhistory check, unit price confirmation, etc..